In many of the Boston boroughs, a small plot of land has been set aside so that locals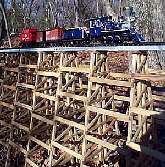 can enjoy a bit of the outdoors right in their own backyard. Woodland parks have been created by the state to preserve a bit of nature inside the city boundaries. In Needham though, the tables have been turned. Deep within the seclusion of High Rock woods, human hands have created a small piece of civilization. A man who goes by the name Chooch has laid the foundation for a quiet community inside of the park. A village that looks like a scene right out of Mr. Rogers Neighborhood.
When I first heard of this I found it hard to believe. Why would someone build a model railroad depot in the middle of the woods? Curious to see this, I ventured out for a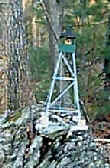 nice hike with a few friends. After many twists and turns through a pleasant neighborhood, we parked on a dead end road and entered the park. It really didn't appear to be anything special. It seemed to be just an undeveloped area in Needham with dirt roads and foot beaten trails. The path to the depot randomly winds about through the forest. If it weren't for having a previous knowledge of the depot and being equipped with its GPS coordinated we might have never found it. How strange it must appear to a hiker who stumbles upon it by chance.
As I ventured deeper into the park my attachment to the real world vanished and prepares me for a getaway into this miniature world. We soon arrived and I was impressed by what I saw. The tracks are the first thing to catch your eye. As you look around, you find more hidden treasures blended into the natural landscape. On the gentle slope near by were 3 houses complete with a manicured lawn of moss. On the rock a lookout tower standing like a sentinel on the mountainside. A trickling brook was dammed to create a lake and waterfall. Even a dock was provided for the Lilliputians to fish from. What impressed me the most is the quality of the work. The trestle was the most awe-inspiring piece. With a length of about 10-12 feet and a height of about 4 feet at its tallest point, it is a sign of true craftsmanship.
Nestled between some trees is the depot itself. A s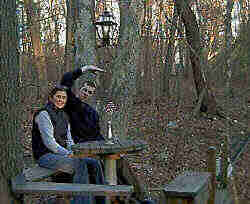 mall deck complete with a bench and table. Above your head are a lamp for a candle and a pole for a flag. An excellent spot to rest and enjoy the sights. I could only imagine how much fun it must be to run the train up and down the tracks on a warm spring night.
The depot is a excellent combination of the relaxing outdoors and the charm of a classic childhood toy. What could be more pleasant after a hard day at work than to play with your model train; but, instead of spending hours crafting a small piece of reality on top of a table in the basement as most model train hobbyist would, he uses High Rock woods as his canvas and the landscape around him as his palette. What better way to escape than to stroll out your own backyard, vanishing from the modern world, into a quiet little village called Martini Junction.
[Check our photo section for more Martini Junction Pictures.]